Personal information, usernames, display names, passwords, oh my! There is so much to know and remember in the digital world. Below are fun activities to do with your children to teach them how to stay safe and protected online, while remembering their important info and having fun.
---
Learning about personal information online

Who's Who
Sometimes we share information about ourselves that we don't think is personal. However, when you put one or two pieces of this information together, they can be linked, making it easy to figure out who the person is.

In this activity, try to figure out who the person is with just a few pieces of information they provided:


Think before you share!
Be careful when you give out any information about yourself online. Even when you think you are not providing personal information (PI), you may be providing just enough information for someone to figure out who you are, when you don't care for anyone to know.
DID YOU KNOW?
Did you know that your photos, videos and voice recordings that you upload are considered personal information (PI)? Think before you post and make sure you have your parent's permission!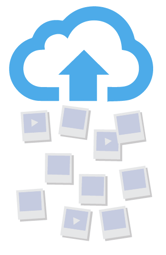 ---
Creating Usernames & Display Names

How do others see you online
Let's work on creating fun, unique, and memorable usernames and display names that do not share any personal identifying information.
TIPS
– Do not use your full name
– Do not use your last name
– Do not use a celebrity's name
– Do not use your birthday or birth year
– Be creative
– Make it unique, but easy to remember
– Keep it simple
– Consider its impact
(You may not be able to change it and everyone will see it!)

In this activity, come up with example username or display names using the formulas provided!
FORMULAS:
Pets Name + Your Lucky Number
i.e. noodles08, daisydog16
______________________________________________________________________
______________________________________________________________________
Hobby/Passion + Favorite Sport Player's Jersey Number/Your Lucky Number
i.e. runner19, tapdancer11, horses09
______________________________________________________________________
______________________________________________________________________
Adjective + First Name
i.e. ArtisticAnnie, TalentedJohn, SillySam, MagicMax
______________________________________________________________________
______________________________________________________________________
Role Type + Adjective
i.e. missyellow, mrawesome, queenfancy
______________________________________________________________________
______________________________________________________________________
Role Type + Adjective + Animal
i.e. princebravetiger, missfancyfox, kingstrongbear
______________________________________________________________________
______________________________________________________________________
Make your own by mixing & matching the formulas above
i.e. tinybearexpert, strongsillysam, superfastgirl
______________________________________________________________________
______________________________________________________________________
---

You can download the full activity sheets here: